Wednesday. 11.12.08 12:00 am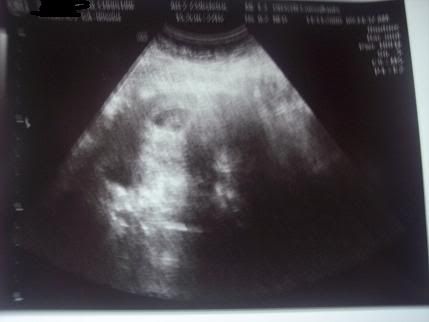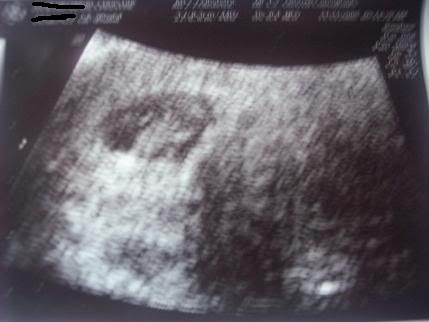 Yes, the above blob is the baby! A whole inch long and an active little bugger. The heartbeat was a great sound and all was well in my little uterine world today. I lost weight (not so good) and I've been sick as shit, but I'm living :)
This will probably be my last entry for awhile.. I've kind of grown out of the whole blogging experience for now. Maybe I'll update, maybe I won't. I kind of got out of it when I got pregnant with liz. Speaking of Liz she's been such a spitfire lately. Real redheaded temper! I love her and loathe her at the same time. She's my joy and my hell. At least she behaves in public!
Work is suckish.. They've really cut back on hours. Insane.
Jim's REALLY stepped up to the plate and became a real man. It better last. We've only had 2 fights in the past 3 weeks. That's like a world record! Wahoo. He got all teary eyed at the ultrasound today. Lizzy was intent on the screen and thought they were hurting me when I cried. She took to the ultrasound photos like it was her best friend. I took them to work and Jimbo told me that she was asking where the baby was and crying for 'her baby sister'. Poor girl, I'll have to make her her own copy!
I figured I'd update quickly though for those that cared enough about my insane crazy world.
oh my! its been a while since i heard from u. how u doin there?
a baby girl? wow! two baby girls then! yohoo! n im glad to hear things are gettin better between u n jim..
»
AlexisNg
on 2008-11-12 08:34:25
how exciting! I miss being pregnant :( I think about having a little baby all the time (must be a woman thing)
»
lazypuppy
on 2008-11-16 01:25:45
Congratulations! truly a little miracle!
»
Zanzibar
on 2008-11-26 02:41:57
Sorry, you do not have permission to comment.
If you are a member, try logging in again or accessing this page here.